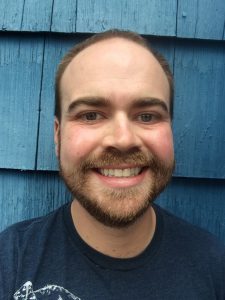 Ed. note: This summer, mPOWEr team member and UW BHI PhD student Ross Lordon had the opportunity to work with the Patient Engagement Team at Microsoft Research (MSR) as a research intern. In this post, Ross shares his experience to see first hand how MSR is using artificial intelligence to improve patient outcomes, enhance provider workflows, and generate new efficiencies for the industry as a whole.
My primary project with the Patient Engagement Team aimed to help type 2 diabetics better predict their meal timing. Meal timing is an important consideration for patients with diabetes because they may need to take a short acting dose of insulin 30 minutes prior to eating. However, the majority of diabetes research focuses on the of types of foods eaten by diabetics (e.g. carbohydrates), activity levels, and blood sugar levels. I spearheaded the process of developing a rapid prototype iOS application with a designer at MSR. Our primary goal was to collect meal times through this app in real time with minimal effort by the user. We conducted a small pilot study with healthy (non-diabetic) Microsoft HealthVault beta users to assess if our participants' self-perception of meal timing matches reality. Our preliminary results suggest participants may be poor predictors of meal timing variance. This may have important implications for type 2 diabetics because they may need to take a correction dose of short acting insulin before eating a meal. Future directions for this research will involve improving the application design based on participant feedback and using the application to collect type 2 diabetic meal time data.
In addition to my research project, I also initiated a collaboration between the MSR Patient Engagement data science group and the mPOWEr research team. Using novel deep learning methods to incorporate both serial symptom and wound image data, we are collaborating to develop an algorithm for surgical site infection triage. Eventually, we aim to help providers to identify mPOWEr patients at risk for developing wound infections and to personalize their care. Please stay tuned for future updates regarding this exciting joint project!